Rabbits who stop eating must be force fed by owners and veterinary staff in order to get their gut moving again to feel better and survive. This owner was having difficulty at first, but with some tips from BMAH and the exotic department at RBVH (Red Bank Veterinary Hospital, Tinton Falls), she persevered and saved her bunny named Roo.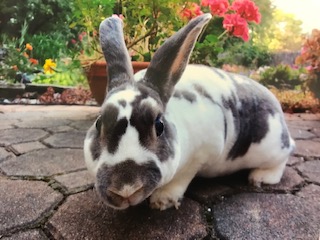 The owner wanted to pass on some tips to benefit others who have rabbits in their household that might face the same type of emergency.
Tips From Roo's Mom: Wrapping your bunny in a Burrito wrap using a towel or blanket is important to keep him secure. Roo prefers to be wrapped in a thick baby blanket. Roo prefers eating from a 6 ml or a 10 ml syringe. Filling small syringes from a large one (I have 30 ml and a 60 ml) tends to be easier than drawing from a bowl, as the thickness and air pockets can be difficult. I put the entire prescribed amount into a large syringe and squirt it into the small ones. Preload as many small syringes as you can. This makes things much easier and efficient if the bunny is actually cooperating. Roo prefers the apple banana Critical Care to the plain version. Be patient and allow for a block of time with many breaks. Our fastest feeding time was 35 minutes, but the longest was 3 hours.
Dr. Joe Martins, DVM, Belle Mead Animal Hospital