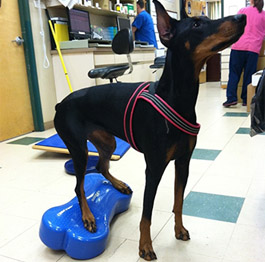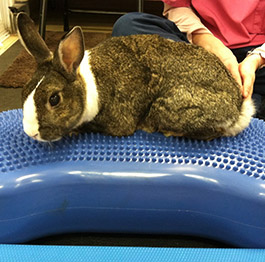 Physical Rehabilitation in the BMAH Pet Pain Clinic

We are pleased to offer a comprehensive physical rehabilitation program at Belle Mead Animal Hospital's Pet Pain Clinic under the direction of Kimberly Somjen, DVM. Physical rehabilitation is the practice of restoring normal function to the body through a variety of modalities while managing any pain and discomfort. The goal of the Pet Pain Clinic is to improve and optimize the quality of life of any pet – dogs, cats, and exotic companion mammals.
Is your senior pet slowing down or reluctant to climb stairs? Are you having trouble managing your pet's weight? Did your dog just have orthopedic surgery and you want to do everything you can to speed up the recovery? Does your dog limp when he first wakes up? Is your cat not jumping as much or as high as before?
If you answered yes to any of these questions, then physical rehabilitation can help! And remember, physical rehabilitation isn't just for dogs and cats. Exotic companion mammals can benefit, too!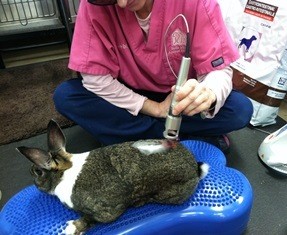 Physical Rehabilitation can benefit so many animals:

Animals undergoing orthopedic surgery: Rehabilitation helps speed up the healing process, reduce muscle loss, increase range of motion and decrease pain.
Older animals: Rehabilitation helps maintain mobility, muscle mass and range of motion.
Animals with neurologic issues / spinal disease: Rehabilitation can slow down degeneration and restore normal function.
Overweight animals: Rehabilitation can help them exercise without causing damage to their body.
Athletic pets/fitness training: Rehabilitation increases a pet's core strength and helps the pet maintain peak condition so they can take competition to the next level.
Working dogs
Animals with soft tissue and other recent injuries
Animals with chronic injury and wounds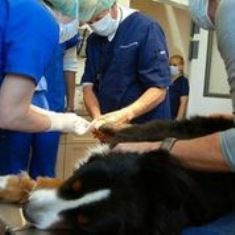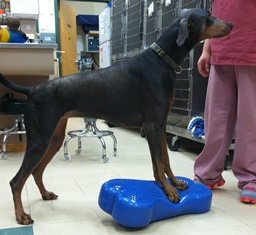 Our desire to provide the best medical care for our patients as well as being on the forefront in pain management has led us to combine physical rehabilitation with our regenerative medicine program (stem cells and platelet rich plasma). These programs will be beneficial to so many of our patients.
Physical Rehabilitation Modalities offered:
Class IV K-Laser therapy: Laser therapy speeds up the healing process and treats pain, swelling and infection.
Massage: Just like people, pets love a massage! It decreases scar tissue formation and spasm while relieving pain.
Therapeutic Ultrasound: The application of deep ultrasound rays will heat up the muscles and tendons to relieve spasms and pain while increasing flexibility.
Physical manipulation, joint mobility and stretching
Therapeutic exercises with the use of physioballs, peanuts and wobble boards.
Electric stimulation (TENS/NMES)
Cryotherapy
Thermotherapy
Stem cells
Platelet Rich Plasma
Read more about the Pet Pain Clinic in our March 2017 Newsletter.
Visit us on YouTube and watch Dr. Somjen demonstrate canine therapeutic exercises with her dog Chill during the July 2014 Somerset Patriots "Bark in the Park Night."
Read about our Pet Physical Rehabilitation presentation at our Open House on October 22, 2014.
About Kimberly Somjen, DVM
Dr. Kimberly Somjen graduated from Tuft's University School of Veterinary Medicine in 2006 and has been with Belle Mead Animal Hospital ever since. She has always had an interest in pain management, exotic animal medicine and emergency medicine. Her interests in physical rehabilitation began with a focus keeping her current pets in peak athletic shape as well as getting her dogs back into shape after surgeries and injuries.  Dr. Somjen has completed the University of Tennessee's Certified Companion Animal Pain Management Program and is also in the process of completing the Veterinary Medical Acupuncture Course.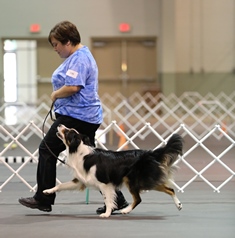 She and her boyfriend share their home with four dogs, three cats and a few foster animals. Dr. Somjen actively trains and competes with her dogs in obedience, rally, agility, nose work, and tracking. When not at work, you can find her at dog shows, training her dogs or hiking. Understanding the necessities of the canine athlete as well as the dedication of an owner undertaking this training with their pets, Dr. Somjen hopes to help many animals stay healthy and pain free.