March 2020 News from Belle Mead Animal Hospital
Health and Safety First Amidst Coronavirus (COVID-19) Concerns
The health and safety of our patients and staff is our highest priority. As the novel coronavirus (COVID-19) continues to spread throughout the country, and more concerning, our county, we wanted to share some guidelines and suggestions meant to help protect both you and our team members.
Please be aware that Belle Mead Animal Hospital is staying open and operating at our normal business hours. However, in an effort to help address the ever evolving COVID-19 Pandemic, we are going to be instituting significant changes to our usual operational protocols to better insulate our team from the public, yet allow us to continue to operate in an adjusted capacity.  We are committed to taking extra precautionary steps for everyone's safety within our hospital. Appointments can be kept as scheduled, unless the owner or someone in the owner's household is experiencing symptoms of illness- fever, cough, runny nose, sore throat, or shortness of breath in the past 14 days.
Per the CDC recommendations, we also respectfully request those who have traveled in the past 14 days or have been exposed to others who are returning from an area of the world identified as posing a coronavirus related risk to cancel your appointment and stay at home.
We understand that in certain situations, even if you fall ill or into this criteria, your pet may become ill or you may be in need of food or medications. Please let us know and we will facilitate the best plan to help you. We may ask you to either find someone else to come in for you, or if that's not an option, to please stay in your car and a technician can bring your pet into the hospital to be seen. From there we will keep you updated by phone, and the receptionists can take payment over the phone as well.
If you need medication or food, we can ship them to your house from our online pharmacy, or in the same routine as mentioned above, bring it out to you in the car. If you are not ill, but still are concerned for your health and safety for other reasons, we can still help in the same fashion and finalize services from your car. Do not be afraid to call us and ask. To limit exposure time in the hospital and cross-contamination, we would be more than happy to go over your bill with you over the phone once you get home and then charge your card of choice.
We also ask our clients to please absolutely minimize the amount of people who accompany them to their appointments, and to please practice good hygiene, which are the same for any cold or flu season.
No personal items can be retained with the pet while hospitalized, including blankets, toys, collars, leashes, etc.
Please clean your carrier, leash, and collar as carefully as possible before arrival with an alcohol-based solution.
Please use the sanitizing agents at the front desk upon arrival.
Please respect the "social distancing" recommendations and maintain a distance of 6 feet from others, and refrain from shaking hands.
As a reminder, when visiting Belle Mead Animal Hospital, please follow the CDC guidelines for personal health and hygiene:

Wash your hands with soap and water prior to coming to BMAH.
Use provided hand sanitizer upon arriving and leaving BMAH.
Avoid touching your eyes, nose, and mouth.
Cover your mouth and nose if you cough or sneeze, using a tissue or your inner elbow (not your hands).
When possible maintain a safe social distance (6 feet) between yourself and others and abstain from shaking hands.
Thank you for helping us maintain a safe environment for everyone who visits and works within Belle Mead Animal Hospital
Pets and Coronavirus (COVID-19)
Many of our clients are now asking if their dog or cat can contract the Coronavirus (COVID-19). We would like to share with you current information recently posted on the College of Veterinary Medicine, University of Illinois website regarding this topic.
"At this time, experts believe it is very unlikely. The World Health Organization currently advises that there is no evidence to suggest that dogs or cats can be infected with the new coronavirus. The OIE states there is no evidence that dogs play a role in the spread of this disease or that they become sick. The CDC also seconds that opinion, stating that, at this time, there is no evidence that companion animals including pets can spread COVID-19."
We encourage you to read the entire article, link below with sources. These FAQs were last updated on March 12, 2020.
https://vetmed.illinois.edu/pet_column/coronavirus-pets/
We understand the current unrest and want to thank everyone for their vigilance. From all of us at the Belle Mead Animal Hospital we wish you and your families health and tranquility. Be safe and stay well.
Belle Mead Animal Hospital 908-874-4447
872 Route 206, Hillsborough, NJ, 08844
www.bmvet.com www.bellemeadanimalhospital.com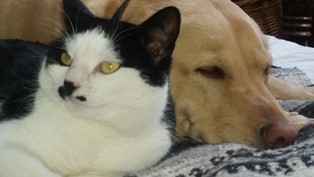 Continue Reading and Learn More Below:
Implementing Social Distancing – Keeping Everyone Cared For, Safe and Staying Informed
BMAH Business Hours – New Jersey Curfew
What else is Belle Mead Animal Hospital Doing to make my veterinary visits safe?
Use the BMAH Website as an Educational Resource!
Did you know you can now Search our website for particular topics of information and advice? Visit our Learning Center > Search this Site and enter a word or words of the subject you want to learn more about. We are constantly adding new material to our website and improving functionality to help serve you better.
Belle Mead Animal Hospital, Your Other Family Doctors
Handling Every Pet with Love Every Day!
As Certified Fear Free Professionals, our Mission is to prevent and alleviate fear, anxiety and stress in pets by inspiring and educating the people who care for them. Visit Fear Free Happy Homes here and join at no cost!
LIKE us on Facebook and Follow us on Twitter @BMAH121 and Pinterest for news and pet wellness tips. We're also on YouTube! Subscribe for updates! Tag and Follow us on Instagram!