The BMAH Team continues to make the health and safety of our patients and staff our highest priority as the novel coronavirus (COVID-19) continues to spread. Here is what we are doing to keep you safe.
Please remember to call ahead of your visit and from your car when you get here. All BMAH Team members are washing hands for 20 seconds before and after seeing all patients and clients. We are using a Specialized disinfectant, and we spray down exam rooms and all public areas of our clinic. The coronavirus that causes COVID-19 is killed by this disinfectant.
We are using surgical-grade sanitizer that not only kills viruses on your hands, but provides protection for several hours afterward.
We also move our patients directly into exam rooms and then disinfect and allow 5 minutes contact time before using the room.
Who should come to the clinic?
We want you to be safe and recommend that if you have a friend or relative who is immune compromised or is elderly and at risk for infection from COVID-19, that they do not come into the hospital per current health department guidelines. Please help those people by bringing in their pets for them. We want to minimize exposure for everyone.
Pet food
Now is a good time to sign up for Hills to Home pet food deliveries. We are recommending that everyone keep at least a two-week supply of pet food on hand in case there are any disruptions in the distribution chain. We can help you set up Hills to Home for your pets and find the right dog or cat food for your pet.  Find out more here.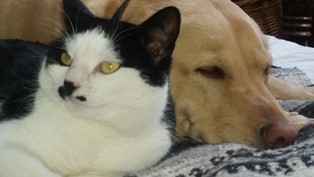 Belle Mead Animal Hospital, Your Other Family Doctors
Handling Every Pet with Love Every Day!
As Certified Fear Free Professionals, our Mission is to prevent and alleviate fear, anxiety and stress in pets by inspiring and educating the people who care for them. Visit Fear Free Happy Homes here and join at no cost!