NOTICE TO CLIENTS: Veterinary hospitals in New Jersey are essential businesses. We are remaining open to help those in need but are closing at 7 pm instead of 8 pm on Monday, Tuesday and Thursday until further notice because of the New Jersey curfew just announced March 16, 2020 due to COVID-19 outbreak. See below:
NEW JERSEY – Non-essential businesses in New Jersey will shut beginning on Monday at 8 p.m. because of the coronavirus outbreak, Gov. Phil Murphy announced on Monday. New Jerseyans should not do "non-essential travel" from 8 p.m. to 5 a.m., Murphy said.
New Jersey will also not allow gatherings of 50 people or more. All movie theaters, restaurants, gyms and casinos will close in an attempt to flatten the curve of the spread, Murphy said in an appearance with NY Gov. Andrew Mark Cuomo and CT Gov. Ned Lamont.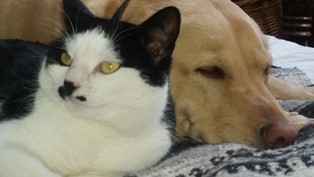 Belle Mead Animal Hospital, Your Other Family Doctors
Handling Every Pet with Love Every Day!
As Certified Fear Free Professionals, our Mission is to prevent and alleviate fear, anxiety and stress in pets by inspiring and educating the people who care for them. Visit Fear Free Happy Homes here and join at no cost!