We want to extend a big Thank You to everyone who came to our annual Holiday Event on December 9, 2017! The snowfall this year certainly added to the festive nature of the event, and Reindeer Jingles seemed to enjoy it!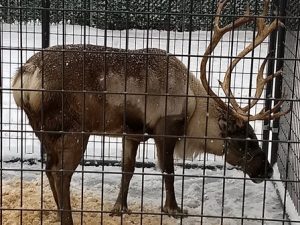 In case you missed it this year, here are some of the highlights of the afternoon:
Yukon Cornelius introduced Jingles to the steady flow of visitors, and he worked Reindeer magic with the special antlers he brought along to the delight of both children and adults! Elf Belle assisted with greeting visitors and offering Reindeer facts and answering questions.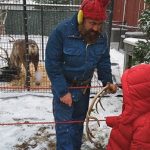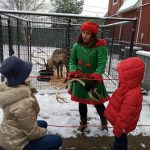 Mr. and Mrs. Claus were on hand to greet visitors inside the hospital this year where hot chocolate and cookies were served.  Santa took the opportunity to pass out treats to the children's' delight!  Even the visiting dogs had fun with Santa!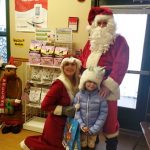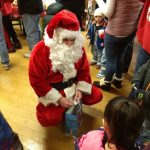 Dallas the goat made his annual appearance all dressed for the occasion!  Dallas was a hit with the children as usual, but he was also a hit with our visiting dogs and our guest rabbit!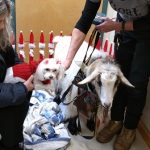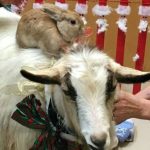 Yes, one special guest brought her pet rabbit to the event, and Mrs. Claus took advantage of some cuddle time with not only Larry the rabbit but with dogs in attendance! The rabbit made the rounds with mom in its very own backpack carrier.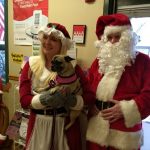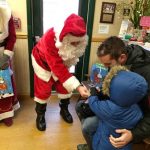 The adoptable puppies were a big hit again! Animal Alliance volunteers mingled with the guests and helped the puppies socialize and play.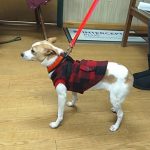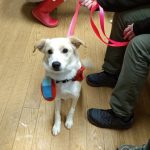 Bumble the Abominable Snowman made the rounds and offered additional photo opportunities!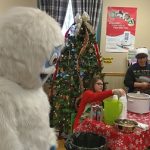 Again, we sincerely thank everyone who came out in the snow to share some holiday cheer and family fun with us!  Your participation makes the holidays even more special for us, and we look forward to next year!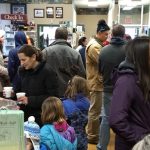 Happy Holidays!
The Belle Mead Animal Hospital Team