Once again, we sincerely appreciate everyone's cooperation and patience as we adjust our protocols and procedures during the COVID-19 pandemic. Following are some things to keep in mind:
1. If you are emailing CustomerService@bmvet.com for a prescription refill, it will be ready in 1-2 business days. Specially compounded meds may take at least 1 week, so please plan ahead. We encourage everyone to get refills at least 1 week in advance to ensure you don't run out and be prepared for unexpected emergencies. We will call or text you when your meds are ready for pickup.
2. We love people who have pet insurance! Pet insurance saves lives! It it the owner's responsibility to submit their own pet insurance claims. As a courtesy and upon your request, we can submit claims for clients, but please let us know you want us to do so as it will take 7-10 days for us to submit claims. The pet insurance companies are also behind due to staffing, so it can take more time to get results. Therefore, please be patient. If you have not heard from us after 10 days, then please contact us a second time.
3. Technician appointments are a lower priority to doctor appointments, so it is possible you may experience 30-60 minute wait times in appointments and pick up/discharges. We appreciate your patience and understanding that we have to triage and address emergencies and sick patients first and are short-staffed. We are happy to be open and serving you, but we cannot move at the speed we used to move, and there will be waits.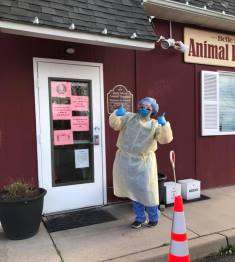 4. Drop-offs at BMAH with no additional Charges are encouraged for Doctor or even tech appointments – when an appointment is not readily available and/or you just can't wait and need to be doing other things. You can leave your pet with us and pick up an hour or few hours later when it's more convenient and there is much less waiting time.
5. BMAH Now Offers Telephone Consultations! You can now request a 15 minute telephone consultation with one of our Doctors. Make your request with one of our receptionists. You will be asked to provide a telephone number where you can be reached and a window of time when you can be available. There is a $40 charge for this service that must be prepaid by credit card over the phone. A doctor will return your call during that window of time and discuss your pet's condition. If the doctor determines that your pet should be seen in our hospital due to their medical condition, an appointment will be arranged and the $40 charge will be credited toward that in-hospital exam fee.
Belle Mead Animal Hospital, Your Other Family Doctors
Handling Every Pet with Love Every Day!
As Certified Fear Free Professionals, our Mission is to prevent and alleviate fear, anxiety and stress in pets by inspiring and educating the people who care for them. Visit Fear Free Happy Homes here and join at no cost!