Summer is almost here, and it's time to make plans for the Somerset Patriots "Bark in the Park Night." The Belle Mead Animal Hospital team will once again have a table in the concourse at TD Bank Ballpark in Bridgewater on Tuesday, July 19, 2016, and we hope you will join us there!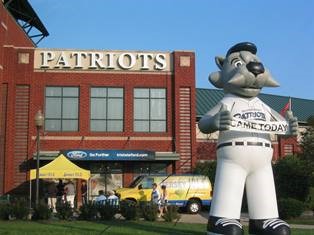 Bring friends, bring family, and last but not least, bring your leashed dog! We'll have doggie treats at our table and some special activities planned to share with you. This is an opportunity to have some fun and also learn more about our services at the same time, and maybe even win a prize! We won't tell you just yet all that we have planned – we want to keep that element of surprise going until we get closer to the event, so stay tuned for updates on our Facebook page, our Blog and our other social media channels.
There are rules to follow with regard to bringing your dog. It will be a busy night, and it's encouraged to bring only well-socialized dogs who are calm and comfortable amidst lots of activity. Typically pet owners are asked to bring paperwork displaying proof of vaccination. Also make sure your dog is wearing his/her Identification tag before you leave home. There will be a table set up outside the main ballpark gate to check-in with your leashed pet before entering the concourse.
It's still fun to attend even without a dog. Stop by our table and socialize with our animal hospital team, watch the game, and enjoy in all the ballpark activities. It's always a great night out! Learn more at the Somerset Patriots website.
Joe Martins, DVM, Belle Mead Animal Hospital