Congratulations to Maci who recently passed the American Kennel Club's "Canine Good Citizen" test! Maci has been a patient at Belle Mead Animal Hospital for many years now. Maci's mom has been quite diligent in seeing that Maci was well trained with positive reinforcement and learned good manners.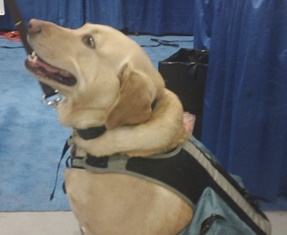 The AKC's Canine Good Citizen (CGC) Program was started in 1989. It is designed to reward dogs who have good manners at home and also in the community. The Canine Good Citizen Program is a two-part program that stresses responsible pet ownership for owners and basic good manners for dogs. All dogs who pass the 10-step CGC test receive a certificate from the American Kennel Club.
Maci was tested at the AKC exhibit booth during the recent Super Pet Expo in Edison. The tests were being offered free of charge during the event.
Before taking the Canine Good Citizen test, Maci's mom was asked to sign a "Responsible Dog Owners Pledge." The AKC believes that responsible dog ownership is a key part of the CGC concept. By signing the pledge, owners agree to take care of their dog's health, safety, exercise requirements, training and quality of life. Owners also agree to show responsibility by doing things such as cleaning up after their dogs in public places and never letting dogs infringe on the rights of others.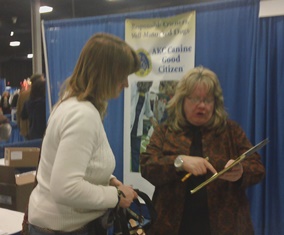 After the "Responsible Dog Owners Pledge" was signed, Maci was allowed to take the test. Items on the Canine Good Citizen test included:
Accepting a friendly stranger
Sitting politely for petting
Appearance and grooming
Out for a walk (walking on a loose lead)
Walking through a crowd
Sit and down on command and Staying in place
Coming when called
Reaction to another dog
Reaction to distraction
Supervised separation
Maci passed with flying colors and was able to show off her award for the rest of the day during the event.
We're very proud of Maci and her Mom. If anyone else is interested in learning more about the Canine Good Citizen test, read more about it on the American Kennel Club's website under our Recommended Reading list below.
Recommended Reading:
AKC Good Citizen Training and Testing
Why puppy socialization is so important
Dr. Joe Martins addresses local Cub Scouts on Pet Safety
Getting puppies off to a good start!
Dr. Joe Martins, DVM, Belle Mead Animal Hospital