You never know when a pet emergency might strike, but you can be prepared.  In addition to having the phone numbers handy of your family veterinarian, your nearest pet emergency clinic and the Pet Poison Helpline along with your home first aid kit and evacuation procedure, you can also take a course in Pet First Aid and CPR.  It only takes a few hours out of your day to arm yourself with the knowledge and ability to handle a pet crisis as it occurs.
Pet First Aid refers to the initial care given to an injured or suddenly ill animal. A trained individual will know what simple yet life-saving steps to take with minimal equipment to stabilize an animal and keep him/her comfortable until the veterinarian can take over.
Proper pet first aid can reduce a pet's recovery time from illness or injury and even help prevent long-term disability.  In a Pet First Aid class, you will learn basic emergency care. Common illnesses and environmental exposures will be covered to prepare you for a variety of situations your pet might experience.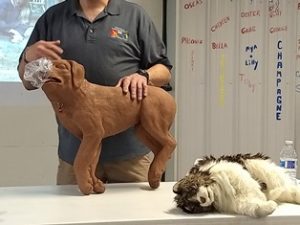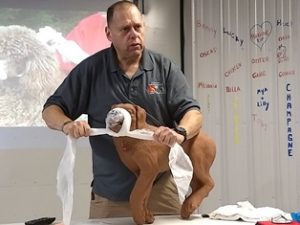 More specifically, training will cover how to safely approach an ill or injured animal, emergency scene safety, infection control, and how to properly use restraints (muzzles, towels, blankets, ankle straps, collars).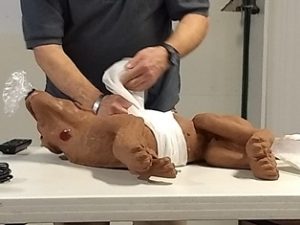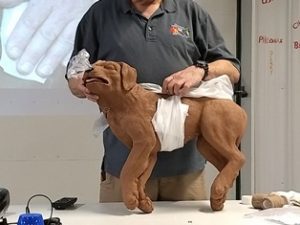 Pet CPR is short for pet "Cardiopulmonary Resuscitation" which is the procedure used to artificially push blood and oxygen out of the heart to the brain and other vital organs of the body.  When a trained individual uses chest compressions and breathing techniques on an animal, he/she will help keep the animal's brain alive and vital organs functioning until veterinary professionals are able to take over.
In a Pet CPR course geared for dogs and cats, you will learn the Initial Assessment steps – Assess, Alert, Attend.  You will be taught how to determine if the animal is breathing and how to check for his/her heart rate.  You will learn 8 steps of CPR starting from how to position yourself with regard to the animal through administering the compression necessary to resuscitate the animal.  You will also learn to check for any obstruction in the pet's mouth and how to administer a technique called Rescue Breathing.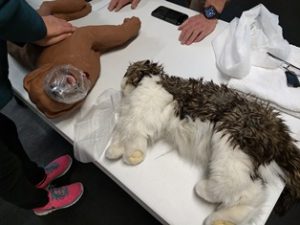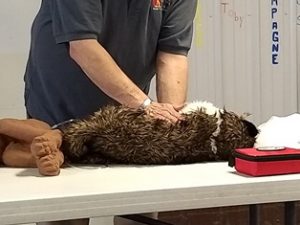 Hands-on training using dummy cats and dogs gives each class participant the opportunity to practice the techniques while the instructor guides and facilitates.  Video training helps participants see how emergency situations can be handled by trained individuals in a variety of situations.  Participants are sent home with a comprehensive Pet First Aid guide issued by the American Health and Safety Institute to be used as a reference manual.  The guide covers the points already mentioned in addition to bleeding control steps, signs of shock, injuries to muscles and bones, soft tissue injuries and wound care, burns, poisoning, and more.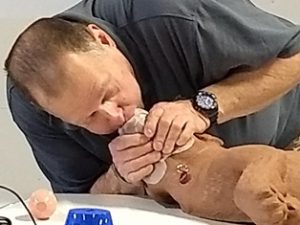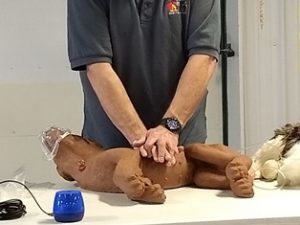 Where to find training: In our New Jersey area, we can recommend contacting First Aid & CPR LLC, Manalapan, New Jersey.  A registration fee will apply.
Once a course is completed and you are certified, you will receive a Certificate of Completion and a wallet card.  It is advised that participants be re-certified every two years.
Recommended Reading:
April is Pet First Aid Awareness Month
Joe Martins, DVM, Belle Mead Animal Hospital