Unfortunately, we must announce the cancellation of the 2018 HOWL-O-Ween Dog Parade and Costume Contest scheduled for Saturday, October 27, at the Ann Van Middleworth Dog Park in Hillsborough, New Jersey. With a nor'easter moving in and  heavy rain predicted, it's just not possible for the event to take place as originally planned by Hillsborough Parks and Recreation, so they have made the decision to cancel.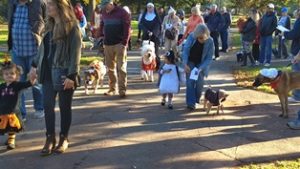 We are looking forward to next year, and in the meantime, everyone stay dry and have a safe Halloween. Remember to keep Halloween treats such as chocolate away from your pets, and keep pets indoors in their "safe place" while you answer the door to greet Trick-or-Treaters.
We look forward to next year's event, and you can read about the 2017 HOWL-O-Ween Dog Parade and Costume Contest here: Howl-O-Ween at the Hillsborough Dog Park!
Happy Halloween!
Dr. Joe Martins, DVM, Belle Mead Animal  Hospital