We are so proud of our Veterinarian Technician Christine Hamill who entered the 2020 Westminster Dog Show with her special collie, Wyatt. Following is Christine's tale of fun and adventure as a Breeder/Owner/Handler in the ring at Westminster with Wyatt.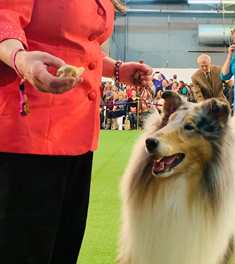 I bred Wyatt back in 2012. One of the most important things to me when breeding is that the parents have been health tested for genetic diseases that can occur in Collies – and that the temperaments are true to what a Collie is! Wyatt exemplifies that.
It is so important for families looking to get a purebred puppy to research the breeders and insist on finding out what health tests were done and that the parents have wonderful temperaments – and the Breeder will be there for the family for the life of the dog!  There is much more to being a breeder than breeding two dogs together and selling puppies.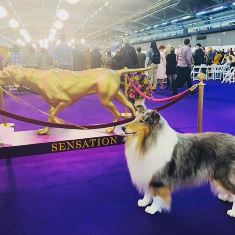 Wyatt finished his AKC Championship a few years ago. One morning this past October I woke up and decided it was time for him to get back into the show ring! He turned seven years old in December and only needs a point to complete his Grand Championship – so with Westminster coming up, I decided we would start back at that show. The entry process for Westminster is nerve racking as it is a limited entry show, and the top five ranked dogs of each breed get an automatic invite; that doesn't leave too many spaces open for other entries! I was so happy to get the news that our entry was accepted.
My fellow BMAH Techs Rachel and Wendell along with Wyatt's "human dad" Mike came along for help and support! After all, one needs an Entourage for going into New York City!! The parking and unloading and getting into Pier 94 for daytime showing is quite the process!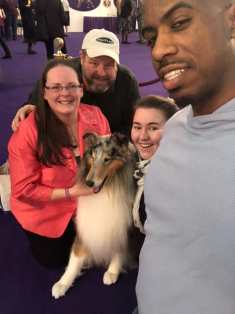 There were eighteen Rough Collies entered, and although we didn't win, we were the only Breeder/Owner/Handler left in the ring when the Judge made his final cut! What a thrill that was!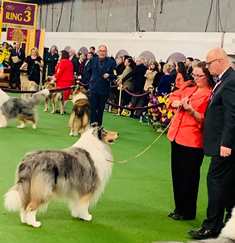 Wyatt loves visiting with people and enjoyed shopping and getting pets from the Trupanion team and also Cornell Vet School students. He even hung out with some Firemen from NYFD!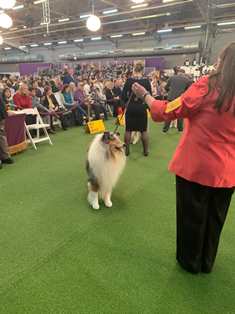 Needless to say, on Monday, Wyatt and I spent most of the day sacked out on the couch recuperating from our NYC adventure!!
Wyatt's next show will be in Syracuse, New York to attend the Collie Club of America National Specialty in April.  We look forward to keep showing in 2020 and beyond!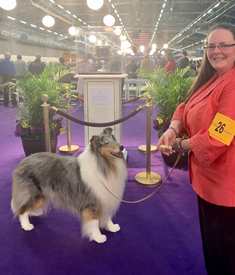 Congratulations Christine and Wyatt! Good luck in future shows!