Wesley is a 4 year old Labrador who wandered away from his home in Hillsborough about two days before Superstorm Sandy struck New Jersey. The Cruz family, who are clients of Belle Mead Animal hospital, were devastated about the loss of their dog. After missing for 17 months, they were starting to give up hope of ever finding Wesley.
However, Wesley was a very lucky dog! His pet parents made sure he was microchipped!  On April 1, Wesley was found wandering the streets and was picked up by the West Windsor police. As the story goes, they just opened the car door and Wesley happily jumped in to go for a ride!
Wesley was taken to Weber's Boarding Facility and scanned for a microchip. His owners' address was found, and Wesley was reunited with his family.
Mr. Cruz brought Wesley in for an exam with me on April 2, and overall he looked very good. Wesley had a few healing wounds, some skin irritation and weight gain. However, the dog was in great spirits!
We can't educate our clients enough about the benefits of microchipping your pets. It's easy, affordable, and can save your pet's life.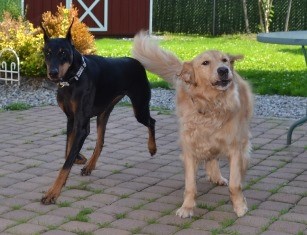 Dogs and cats can go missing under many different circumstances. Sometimes holiday activities, such as July Fourth fireworks or Halloween trick-or-treaters can frighten an animal, and they unexpectedly take off through an open door.
You can learn more about how microchips work in our Blog about secure collars and proper identification for your dog. Please remember, microchips are not just for dogs. We recommend microchipping cats and even your exotic companion mammals.  Please feel free to call our office if you would like to discuss the benefits of microchipping further.
If you missed the Channel 7 Eyewitness News broadcast, you can read more about Wesley and watch the video broadcast here.
Dr. Jessica Stephens, DVM, Belle Mead Animal Hospital