Join us in congratulating our Vet Technician Alyson Weiss for her recognition as one of this year's Somerset County 4-H "Outstanding Alumni."  In addition to a reception at the 4-H Center and dinner at Verve, the Somerset County Freeholders will visit the annual 4-H Fair to further recognize the alumnis' achievements on Wednesday, August 8, at the Alpaca tent at 7 p.m.
Why the Alpaca tent you might ask? Alyson is Co-Division Chair of the Somerset County 4-H Alpaca Club, and she is the proud owner of two alpacas of her own, Rambler and Rebel.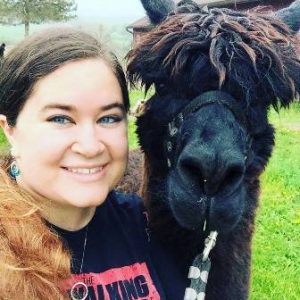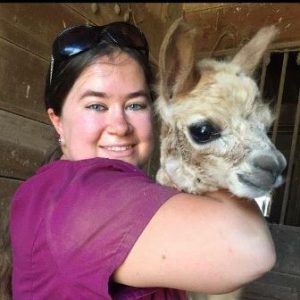 Following the 7 p.m. presentation, at 7:30 p.m. seventeen members of the 4-H Alpaca Club will compete in showmanship with their animals.  But that's not all – the alpacas will compete in the tent again on Friday, August 10, at 1 p.m. for Agility.  Club members will lead their alpaca through an agility course consisting of jumps, weave polls, a bridge they must go over, a teeter totter, and hoops.
Fun fact: The Somerset County 4-H Alpaca Club was the very first 4-H Alpaca Club in the entire country!  The club was started right here in Hillsborough, New Jersey.
The annual 4-H Fair is organized by the Somerset County 4-H Association.  This year's Fair Theme is: Unleash Your Passion (in 4-H)!   Find more details here: http://www.somersetcounty4h.org/
Joe Martins, DVM, Belle Mead Animal Hospital
Certified Fear Free Professional  – Our Mission is to prevent and alleviate fear, anxiety and stress in pets by inspiring and educating the people who care for them.