Attention all rabbit owners! Belle Mead Animal Hospital is finally able to start sourcing vaccines for Rabbit Hemorrhagic Disease Virus (RHDV-2).
Rabbit hemorrhagic disease is a highly contagious, fatal disease in rabbits. RHDV2 DOES NOT affect humans, but it can affect both domestic AND wild rabbits. Infected rabbits may develop a fever, be hesitant to eat, or show respiratory signs, neurologic signs, or internal bleeding. However, many times, the only signs of the disease are sudden death. Unfortunately, there are no treatments available at this time.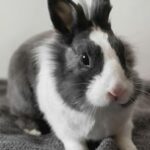 RHDV2 can be spread through direct contact or exposure to an infected rabbit's blood or excretions. The virus can also survive and be spread from carcasses, food, water, and any contaminated materials. It has also been spread by insects. This virus is very hearty, and humans can spread the virus indirectly by carrying it on their clothing and shoes after being exposed to an infected animal or environment.
Even worse news is that as of May 2022, New Jersey now has its first two confirmed cases of RHDV2 in Cape May County. 
The good news? Medgene Labs of Brookings, SD has developed a new vaccine and gained emergency use authorization by the USDA after review of current safety and challenge information. We are finally able to get some of these vaccines and will be able to start vaccine clinics to get rabbits vaccinated as soon as they arrive. 
This vaccine is a series of 2 vaccines given 21 days apart. At this time, we are asking rabbit owners to email Belle Mead Animal Hospital  at customerservice@bmvet.com with the subject RABBIT VACCINE. We will start a list of rabbits that will get the vaccine once available.  In the meantime, please keep your rabbits inside, do not handle rabbits that are not yours, wash your hands and clothes before handling your rabbit, and please contact us at the first sign of any illness!
Find Frequently Asked Questions here:  Medgene Labs Frequently Asked Questions
Dr. Kim Somjen, DVM, Belle Mead Animal Hospital