Clients and staff gathered together on Tuesday, February 11, 2014 at the Belle Mead Animal Hospital to view a presentation about our new and exciting same day MediVet stem cell therapy for dogs and cats.
The introductory presentation was given by Trey Smith of Medivet and Julie Warshefski of Patterson Vet beginning at 6:30 p.m.  Dr. Joe Martins joined in the presentation to add his advice and help answer clients' questions.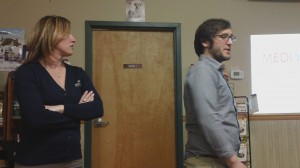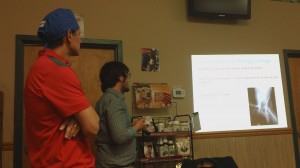 Stem cell therapy is ideal for dogs and cats suffering from osteoarthritis, hip dysplasia and other degenerative diseases. A medical evaluation would first be done by the family veterinarian who will determine if and when this therapy is right for your pet.
The presenters explained that a stem cell is a self-renewing cell that has the ability to give rise to an infinite number of cells of the same type. Once injected into the body, the cells can differentiate into numerous other cell types needed by the body. The stem cells reduce inflammation and pain, and help to re-build bone and soft tissue.
The cells are harvested through adipose which is the fat of the animal.  Compared to other procedures, there are no ethical or moral issues involved with harvesting autologous adipose tissue. The procedure is less painful and invasive for the pet, less surgery time is required, and shorter surgery time is needed.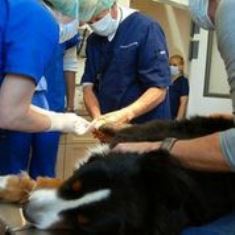 Questions and answers were lively throughout the session. The capabilities of stem cells were explained as well as how they are extracted from the body through a simple, 15 minute surgery and separated from the fat tissue.
The use of platelet-rich plasma was also discussed. Whole blood is drawn before the pet is put under anesthesia. From this blood, platelet-rich plasma (PRP) is isolated. The PRP is rich in growth factors that are proven to enrich proliferation of adipose stem cells.
As the presentation drew to a close, two videos detailing the before and after success stories of dogs severely crippled by arthritis were viewed.  Amazing results were achieved in only a matter of weeks after the treatment. The stem cells continue healing from weeks to months after treatment. The benefits generally last a year or more without the need for pain medication or NSAIDS.  Many patients are showing benefits for a number of years.
MediVet is established in over 1,000 clinics throughout the world.  They boast the treatment of over 4,000 animals to date.
For additional information, please visit http://www.medivet-america.com/ for more details on adult stem cell therapy for your pet.
If you would like to discuss if stem cell therapy can be incorporated into your pet's wellness plan, please call our office to make an appointment for an evaluation by your veterinarian.
Dr. Joe Martins, DVM, Belle Mead Animal Hospital