The BMAH Pet Pain Clinic offers non-invasive Extracorporeal Shockwave Therapy (ESWT, or shockwave) for pets with certain conditions. Shockwave is a non-invasive treatment that uses pressure waves to treat various areas that are painful and stimulate a natural healing response.
Shockwave treatment is helpful for many conditions including:
Osteoarthritis
Hip and Elbow Dysplasia
Bone Fractures
Scar Tissue
Degenerative joint disease
Tendonitis and Ligament injuries
Chronic or non-healing wounds.
Myofascial trigger points
Areas of chronic muscular pain or strains
Chronic back pain
Many people are familiar with other more high-powered shockwave treatments that include breaking up kidney stones. Our unit is a PiezoWave unit is less energy than this traditional units, and this enables us to deliver focused shockwave energy to your pet. Our machine is also much quieter and less painful than traditional shockwave treatments of the past. In fact, our animals don't even require sedation for their treatments!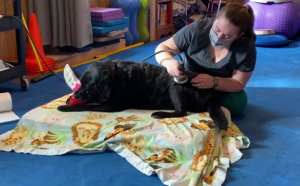 Shockwave is thought to work by creating small microtraumas to the tissues being treated, and this encourages the body to heal itself by encouraging new blood supply, thereby increasing blood supply to the area; this brings new nutrients and helps take waste products away from the area. This also stimulates the body to repair itself and can also blocks some of the pain pathways.
Shockwave treatment takes between 5-10 minutes depending on how many areas are being treated. We use a water-soluble gel to enable us to conduct the shockwaves through the fur.
Specific Technique
Shock wave therapy is an outpatient procedure. A probe is placed on the skin after a gel is applied to help conduct the shock waves. High- or low-energy waves may be used. High-energy waves may cause pain and require a local or regional anesthetic. Low-energy shock wave therapy often is performed without anesthesia. Therapy is more successful with active patient participation where the patient tells the therapist whether or not the probe is at the area of pain. One or more treatment sessions may be needed.
Dr. Kim Somjen, DVM, Belle Mead Animal Hospital