Get the kids ready for a fun event at Belle Mead Animal Hospital. Santa's live Reindeer, Rocket and Fetch, are making a holiday visit!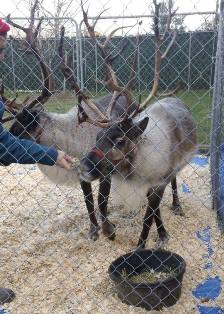 The Reindeer will be on display in a fenced area at the rear of our hospital on Saturday, December 13, 2014 from 1:30-3 p.m.
Don't leave your camera behind! Reindeer are typically found in the arctic and subarctic regions of North America, Europe and Asia. How often do you get the chance to see live Reindeer so close to home and take photos with friends and family?
Yukon Cornelius (owner Mark Spoko, Reindeer Magic and Miracles) will offer visitors an entertaining background on the Reindeer and answer visitors' questions. You might even see Reindeer Fetch dance! (He danced for us last year. We hear he takes after his famous Reindeer father, Dancer!)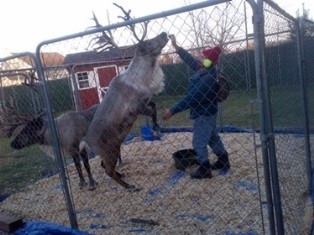 You can park either in the hospital parking lot or nearby at Mountain View Plaza and walk across to the hospital grounds. Staff will be on hand to direct you.
We look forward to seeing you! In the meantime, check out our YouTube channel video below of Reindeer Fetch dancing at our Open House in 2013:
Reindeer Dancing – Open House, December 7, 2013 at Belle Mead Animal Hospital
Dr. Joe Martins, DVM, Belle Mead Animal Hospital