Most people with dogs in this area are diligent about protecting them against parasites, which include mosquitoes, fleas and ticks.  Mosquitoes spread heartworm disease and fleas and ticks can harbor just as threatening diseases. Many people are under the impression that cats, especially indoor cats, don't really need this protection. Veterinarians, as well as cat owners, are now realizing that cats need this protection just as much as dogs, if not more so!
There has been a resurgence of heartworm disease in New Jersey since Hurricane Katrina. Katrina was the largest animal rescue and relocation effort that the U.S. has ever seen. Over 100,000 homeless pets were relocated from the south.  Many of those animals came to New Jersey.  This was a wonderful nationwide effort, but unfortunately, many of these pets were infected with heartworm disease, and it reinfected mosquitoes in New Jersey. Furthermore, the Tiger Asian mosquito underwent a mutation that allowed it to live in New Jersey all year long (not just in warm summer months) and infect even more dogs and cats.  Fleas can harbor diseases as well.  And even though your cat may be indoor only, flea eggs are microscopic and can come into our homes from our shoes and a myriad of other ways.  This is also how microscopic fecal parasites can enter your house.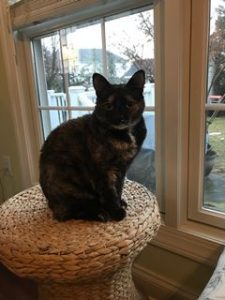 There are many reasons why heartworm disease and parasites never got the attention it deserved in cats. Cats can get heartworm disease, and because of the unique features of feline heartworm infections, they often will not show up positive on any of the routine testing. Furthermore, cats tend not to show any symptoms of the disease when they are infected.  So owners are unaware that their cat is harboring a potentially fatal disease. Sadly, many cats can die suddenly from heartworm disease.  The ones that do not die suddenly can develop severe respiratory inflammation that is very similar to asthma.  Did you know that a mosquito will prefer to bite a cat over a human because of their higher body temperature?  Just one bite from an infected mosquito can cause permanent damage to your cat's lungs or worse.
Feline Revolution is the safest, most effective way to protect cats against heartworm disease, fleas, and ticks.  Revolution will also protect your cats against ear mites and several fecal parasites!  You only need to apply revolution once monthly and it is easier than applying Frontline.  (You should also know that although Frontline will protect cats against fleas and ticks, it will NOT protect cats against deadly heartworm disease).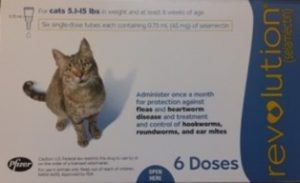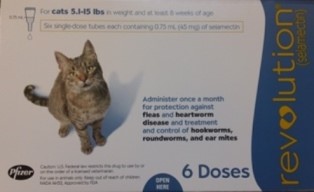 In an effort to help educate owners and protect our feline patients against deadly parasites, we are offering up a "Kitty Gift Basket!"  Please stop by our reception desk for details on the basket and how to enter.  In an effort to encourage safe feline prevention, you can also earn raffle tickets with the purchase of Feline Revolution.  One ticket is entered for 6 months of Feline Revolution and three tickets are entered for 12 months of Feline Revolution.  There are also rebates that cat owners should take advantage of to save money when protecting their cat companions.  There are $5 rebates for 3 doses, $15 rebates for 6 doses and $35 rebates for a full year of Feline Revolution.  Please protect your cats against these diseases.  They deserve safe and effective prevention too!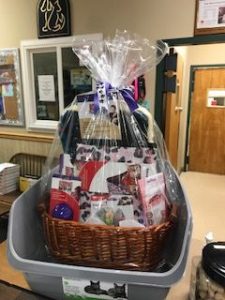 Belle Mead Animal Hospital, Your Other Family Doctors