November 2019 – News from Belle Mead Animal Hospital
We Won BEST of the Best in Somerset County!
The Belle Mead Animal hospital team has once again been awarded "Best of the Best in Somerset County" in the 2019 Courier News Readers Choice contest. We could not have achieved this award without you, our valued clients and supporters. We wish to extend our sincere thanks to all who voted for us.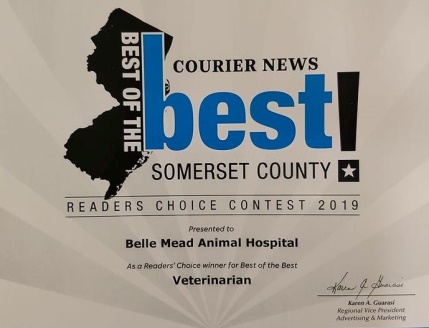 With our "Fear Free" approach, we are committed to making your pet's experience in our hospital comfortable and pleasant. A comfortable and relaxed pet is not only easier to treat, but also has a better chance of recovery from illness or injury. All the animals that come through our door – dogs, cats, exotic companion mammals, birds, reptiles, goats, pigs – are special to us. They are part of your family, and we consider them part of our BMAH family, too. We appreciate your continued confidence in our team to provide the most compassionate care possible for your pets.
Use the BMAH Website as an Educational Resource!
Did you know you can now Search our website for particular topics of information and advice? Visit our Learning Center > Search this Site and enter a word or words of the subject you want to learn more about. We are constantly adding new material to our website and improving functionality to help serve you better.
Belle Mead Animal Hospital, Your Other Family Doctors
Handling Every Pet with Love Every Day!
As Certified Fear Free Professionals, our Mission is to prevent and alleviate fear, anxiety and stress in pets by inspiring and educating the people who care for them. Visit Fear Free Happy Homes here and join at no cost!
LIKE us on Facebook and Follow us on Twitter @BMAH121 and Pinterest for news and pet wellness tips. We're also on YouTube! Subscribe for updates! Tag and Follow us on Instagram!