May 2019 – Achieving Fear Free Exams for Your Pet
A trip to the vet should be a pleasant experience for even the most anxious pet. Sometimes this means taking extra time to make adjustments based on your pet's temperament and behavior which in the long run actually saves time by reducing the pet's stress so they are easier to handle, are happier with the experience, and remain calm.
Fear Free Starts with Clear Communication
Our team is trained to offer appointment times and procedures that have your pet's best interests in mind. Therefore, communication between a BMAH team member and client is crucial for your pet's Fear Free experience. Some pets may enjoy the sights and sounds of a busy hospital reception area while waiting for their appointment time, while others may benefit staying outside with their owner upon arrival and being ushered directly into an exam room when ready. Daytime emergency cases will be given individual consideration and advice when the call is taken.
Once an appointment is arranged, there are a few things you can do at home to start the Fear Free experience in preparation for the trip to the veterinarian. For example, offering treats and using pheromone sprays can distract and calm pets. Spend "quiet time" with your pet at least an hour before placing him or her in the carrier. Petting your pet, talking to him or her in a gentle tone, and playing with a toy will relax your pet and you.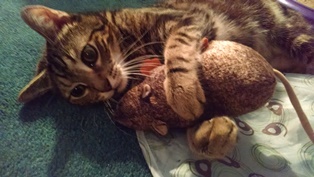 Remember, animals can pick up on their owner's stress, so you want to remain as relaxed as possible so your pet feels relaxed, too. The most anxious dog or cat may benefit from calming sedatives suggested by your veterinarian and administered at home to make the car ride less frightening. Please make sure you follow your veterinarian's instructions and ask questions if you need further information.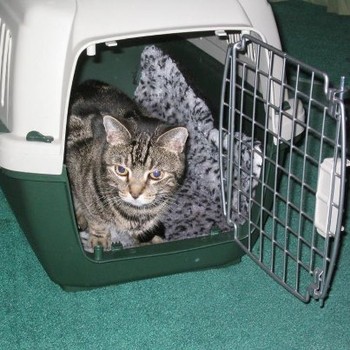 Fear Free Techniques in the Exam Room
Fear Free success during an examination relies on allowing animals more time to become accustomed to being in the exam room and in the presence of technicians and the veterinarian. It's important that pets learn to associate BMAH with tasty treats and humans who offer a pleasing experience.
Once at the hospital, the pet may be given extra time to relax in the exam room if necessary along with treats to help further the positive experience in the new surroundings. There are a range of techniques the veterinary team uses from the moment the pet arrives and during the exam that are most appropriate for the pet's anxiety level in an effort to help the pet remain calm.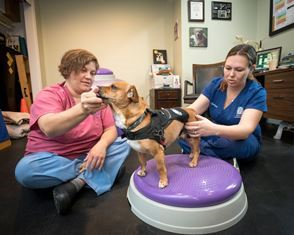 For example, cats in carriers are carefully carried so the cat feels minimal jarring and discomfort. Cats may be encouraged to exit their carrier on their own in the exam room once they feel comfortable rather than being pulled out before they are ready. Dogs might be examined on the floor rather than on the exam table if this helps them stay calm. Exam tables are covered with non-slip surfaces so pets feel they are on secure footing even when elevated.
It's important to recognize that when a pet is hurt or ill and in pain, that pain causes fear, anxiety, and stress. Therefore, we endeavor to diagnose and alleviate the animal's pain as quickly and completely as possible. Proper pain management not only improves patient health and welfare but also maintains the human-animal bond which can deteriorate quickly when painful patients exhibit undesirable behavior. Therefore, pain management is an important consideration when arranging an appointment with a Fear Free practitioner for your pet, such as those at BMAH.
The Fear Free Pet Experience is a Win-Win
Implementing the Fear Free pet experience may require some additional time and adjustments, and it can require more time for certain patients than others, but overall it's a win-win for veterinarians, staff, clients, and most importantly, pets!
Further Recommended Reading:
What Fear Free Means for You and Your Pet
Belle Mead Animal Hospital, Your Other Family Doctors
Handling Every Pet with Love Every Day!
As Certified Fear Free Professionals, our Mission is to prevent and alleviate fear, anxiety and stress in pets by inspiring and educating the people who care for them.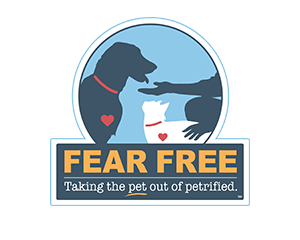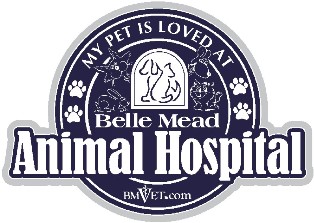 LIKE us on Facebook and Follow us on Twitter @BMAH121 and Pinterest for news and pet wellness tips. We're also on YouTube! Subscribe for updates! Tag and Follow us on Instagram!