October 2018 News from Belle Mead Animal Hospital
What "Fear Free" Means for You and Your Pet
You may have noticed recently the "Fear Free" logos displayed on our website, newsletters and social media pages. Let us explain the significance of our BMAH team becoming "Fear Free Certified Professionals" and what it means for you and the pets entrusted in our care.
As veterinary professionals, we believe and understand that our pets are, in fact, sentient beings. Our pets are able to feel or sense situations and circumstances surrounding them in either a positive or negative way. Through their behavior they demonstrate awareness of their surroundings and responsiveness to environmental stimuli. Our animals see, hear, and smell – they communicate with us not only vocally but specifically by their behavior.
Taking this concept further, our pets are capable of feeling and displaying anxiety when forced into situations unfamiliar to them or situations that cause them to remember a past negative experience and react accordingly. Some pets may cower in fear; others may act aggressively trying to defend themselves from the situation at hand. When ill or injured, the associated pain only magnifies the anxiety a pet may feel when placed in a crate and car, and then taken to a medical facility for treatment only to face more unfamiliar people and pets, and unfamiliar sights and sounds.
We have made it our priority as Fear Free Professionals to help your pet feel as comfortable as possible when brought into our hospital for care. Our goal is to provide guidance to help the owner remain calm with an ill or injured pet, and work together with the pet owner as partners to reduce the pet's fear, anxiety and stress. The veterinary experience should be as pleasant as possible. And when the pet feels comfortable, the pet owner can also relax. A comfortable and relaxed pet is not only easier to treat, but also has a better chance of recovery from illness or injury.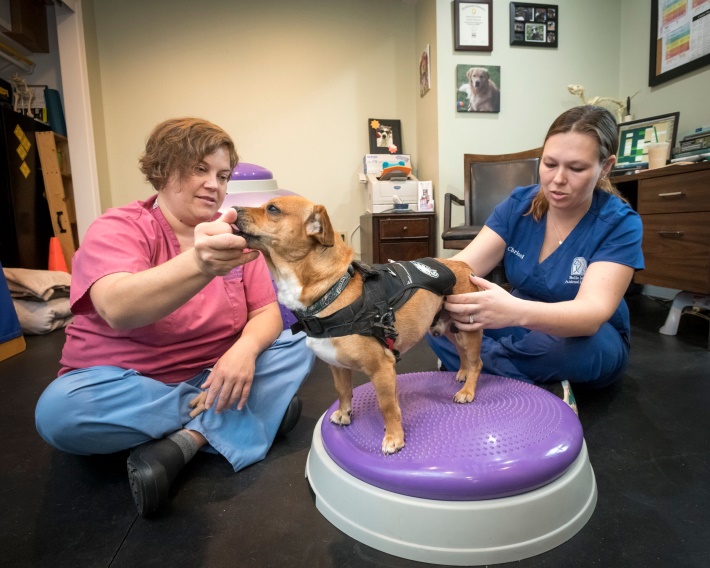 For easily stressed pets, a Fear Free experience can start in the home by using simple techniques such as treats, pheromone sprays, and safe but calming sedatives for the most anxious pet to help make the trip to the veterinarian as pleasant as possible. Also, appropriate appointment times can be suggested based on the pet's temperament and behavior.
Once at the hospital, the pet may be given time to relax in the exam room if necessary, away from other pets and people; treats to help further the positive experience in the new surroundings; and techniques can be used by the veterinary team from the moment the pet arrives and during the exam that are most appropriate for the pet's anxiety level in an effort to help the pet remain calm.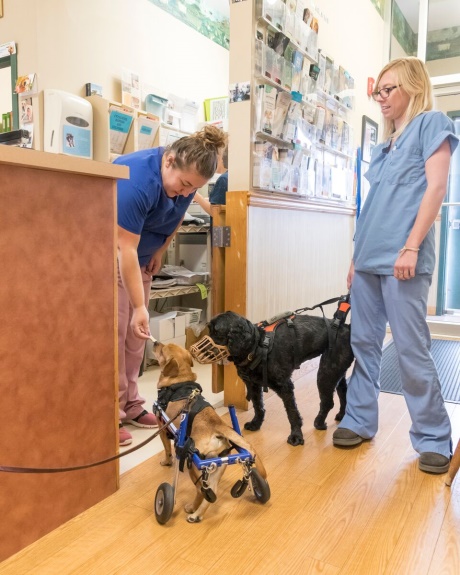 We have mentioned above just some of the many, many ways the Fear Free experience can be applied. Every pet is an individual, and Fear Free has become one of the single most transformative initiatives in the history of companion animal practice, providing unparalleled education on emotional well-being, enrichment, and the reduction of fear, anxiety and stress in pets. The Belle Mead Animal Hospital Team is proud to be members of the growing number of Fear Free Professionals across the country.
Recommended Reading:
Taking Care of Kitty While You are Away
Why Environmental Enrichment is Important for Cats
Keeping Pets Fit with Regular Exercise
Why Puppy Socialization is so Important
Belle Mead Animal Hospital, Your Other Family Doctors
Handling Every Pet with Love Every Day!
As Certified Fear Free Professionals, our Mission is to prevent and alleviate fear, anxiety and stress in pets by inspiring and educating the people who care for them.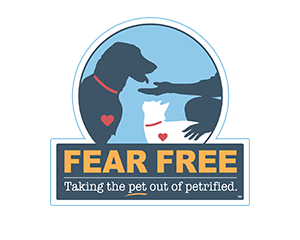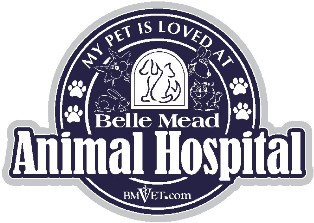 LIKE us on Facebook and Follow us on Twitter @BMAH121, Pinterest and Google+ for news and pet wellness tips. We're also on YouTube! Subscribe for updates! Tag us on Instagram!