April 2020 News from Belle Mead Animal Hospital
Protocol Update During Coronavirus (COVID-19) Outbreak
We sincerely appreciate everyone's patience as we adjust to our current new normal! Thank you all for understanding that there will be some increased wait times in checking in and out as well as picking up medications and food.
For your safety and ours, we will have one dedicated staff person who will handle everything that enters and exits the building, and all your pets and carriers will be wiped down and brought in one at a time. When you arrive at the clinic, please wait in your car and call us, and we will come take care of your needs as soon as we can. If the phones are busy, (and they are!!) please just leave a message or call back a second time.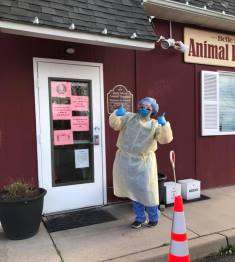 Please remember if you need a refill on medication or food, or have a question about your pet, you can also email us at customerservice@bmvet.com and we will try to respond within a day!
Electronic Paperwork for New Patients and Services!
Also, we will be going to entirely electronic paperwork for new patients, surgeries, drop offs and diabetics in order to minimize handling of papers and pens that need to be passed between ourselves and the clients. Our forms are available at the bottom of this page on our website: BMAH Hospital Forms
These forms can be filled out on your computer or your phone, and can be sent to us in a variety of ways. You can send them directly from your phone or computer by submitting from the website, as well as email, fax, and even taking a picture and sending the picture to us! We will take verbal authorizations over the phone to avoid extra contact, and instead of handing your physical discharge sheets, now we can email you discharge instructions or take a picture and text it to your phone.
Stay Safe!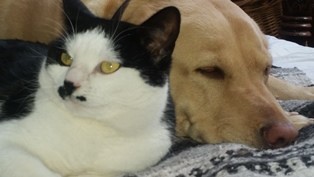 Use the BMAH Website as an Educational Resource!
Did you know you can now Search our website for particular topics of information and advice? Visit our Learning Center > Search this Site and enter a word or words of the subject you want to learn more about. We are constantly adding new material to our website and improving functionality to help serve you better.
Belle Mead Animal Hospital, Your Other Family Doctors
Handling Every Pet with Love Every Day!
As Certified Fear Free Professionals, our Mission is to prevent and alleviate fear, anxiety and stress in pets by inspiring and educating the people who care for them. Visit Fear Free Happy Homes here and join at no cost!
LIKE us on Facebook and Follow us on Twitter @BMAH121 and Pinterest for news and pet wellness tips. We're also on YouTube! Subscribe for updates! Tag and Follow us on Instagram!