October 2019 – Halloween Events for People and Pets!
As Halloween approaches, there's plenty of fun in store for both people and pets in our area! Belle Mead Animal Hospital will be participating in a few upcoming events, and we hope to see you there!
Pet Masquerade, Lambertville, New Jersey
Join us on Saturday, October 19th for the 15th Annual Pet Masquerade at Mary Sheridan Park in Lambertville, New Jersey! The event is scheduled 11 a.m. – 2 p.m. There will be a pet costume contest and parade, food vendors, some adoptable animals from Animal Alliance NJ, and lots of fun for the whole family! There is a $15 registration fee for each pet registered in the Pet Masquerade contest/parade, and there are many different categories for which a pet might win a prize. Register the day of the event by 12:15 p.m. The parade will begin promptly at 12:30 p.m. The rain date is Saturday, October 26th. Belle Mead Animal Hospital is one of the sponsors, and Dr. Martins will assist with judging. Don't miss the fun!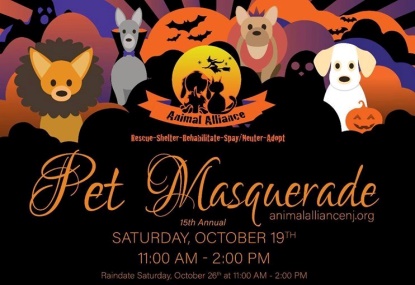 HOWL-O-Ween Dog Costume Parade, Hillsborough, New Jersey
It's Halloween fun for the family in Hillsborough! Dress up your dog in his/her favorite Halloween costume and join us at the Dog Park at Ann Van Middlesworth Park on Saturday, October 26th. Participant check-in begins at 8:30 a.m. by the Pavilion, and the Dog Costume Parade begins at 9:00 a.m. Advance registration is not needed. Prizes and awards will be given to those with the top costumes in their category. Be sure to stop by the Belle Mead Animal Hospital table to pick up treats for your pet and information about our services.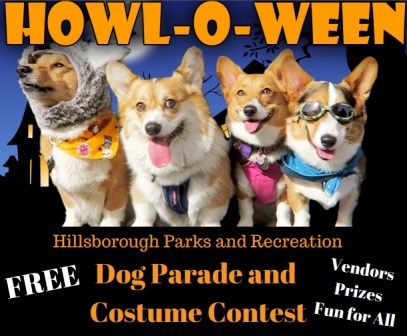 The event organizers ask that participants and spectators keep their dogs on leash at all times, even inside the Dog Park. Dogs must be spayed/neutered and cannot show any signs of aggression before entering the Dog Park. This is a rain or shine event. However, in the case of inclement weather, please check the Hillsborough Township website home page for cancellation information should that become necessary.
Use the BMAH Website as an Educational Resource!
Did you know you can now Search our website for particular topics of information and advice? Visit our Learning Center > Search this Site and enter a word or words of the subject you want to learn more about. We are constantly adding new material to our website and improving functionality to help serve you better.
Belle Mead Animal Hospital, Your Other Family Doctors
Handling Every Pet with Love Every Day!
As Certified Fear Free Professionals, our Mission is to prevent and alleviate fear, anxiety and stress in pets by inspiring and educating the people who care for them.
LIKE us on Facebook and Follow us on Twitter @BMAH121 and Pinterest for news and pet wellness tips. We're also on YouTube! Subscribe for updates! Tag and Follow us on Instagram!