December 2017 – A New Year Message to our Clients
Thank you for the trust you place in our veterinary team throughout the year. We appreciate our relationship and the opportunity to care for your pets. We take pride in treating every pet that comes through our doors as our very own, and we extend our best wishes to you and yours for health and happiness in the coming year.
Please remember that New Year's Eve can be a scary time for pets with fireworks outdoors and the party-like atmosphere in many homes. It helps to create a "safe place" for your pet in the home where they can remain calm away from the loud noise and guests. Close blinds, play music, and use dog or cat appeasing pheromones and Thundershirts. Don't panic or nurture pet anxiety by being anxious or scared for them. Just be a calming, gentle, quiet source of comfort and security in the safest place you can create for your pet.
Want to learn more about pet anxiety and other topics? Use the BMAH Website as an Educational Resource!
Client education is important to us. We encourage questions and conversation about the health and well-being of your pets during office appointments, and we offer additional advice on our website.
Did you know you can Search our website for particular topics regarding pet health? Visit our Learning Center > Search this Site and enter a word or words of the subject you want to learn more about. We regularly add and update material on our website to help serve you better.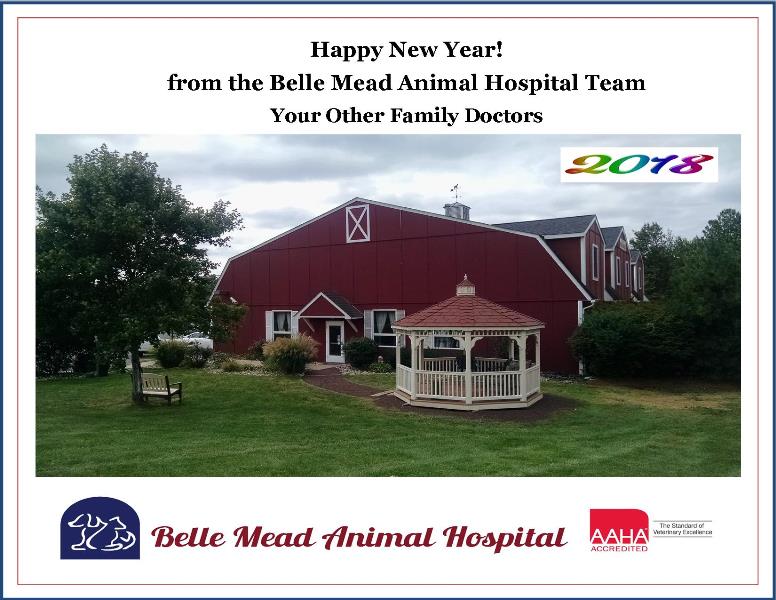 Belle Mead Animal Hospital, Your Other Family Doctors
Handling Every Pet with Love Every Day!
LIKE us on Facebook and Follow us on Twitter @BMAH121, Pinterest and Google+ for news and pet wellness tips. We're also on YouTube! Subscribe for updates! Tag us on Instagram!