May 2018 – Kitty Gift Basket Raffle
In an effort to help educate owners and protect our feline patients against deadly parasites, we are offering a "Kitty Gift Basket" raffle! We want to encourage safe feline parasite prevention. Therefore, you can earn raffle tickets with the purchase of Feline Revolution. One ticket is entered for the purchase of 6 months of Feline Revolution, and three tickets are entered for the purchase of 12 months of Feline Revolution. There are also rebates that cat owners should take advantage of to save money when protecting their cat companions. There are $5 rebates for 3 doses, $15 rebates for 6 doses and $35 rebates for a full year of Feline Revolution.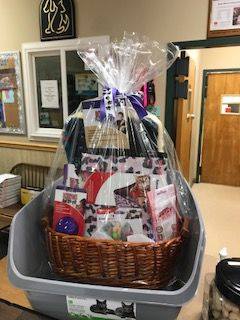 Many people are under the impression that cats, especially indoor cats, don't really need monthly protection against parasites such as mosquitoes, fleas and ticks.  Unfortunately, that's just not true. For example, flea eggs are microscopic and can be carried into your home by your shoes or by a myriad of other ways. A mosquito can slip in through an open door or window, and with just one bite, infect your cat with deadly heartworm disease. Ticks now carry a host of pathogens that may not affect your cat in the same way a dog can become ill, but ticks can infect humans. Protect your pet, protect your family!
Feline Revolution is the safest, most effective way to protect cats against heartworm disease, fleas, and ticks. Revolution will also protect your cats against ear mites and several fecal parasites! You only need to apply Revolution once monthly, and it is easier to apply than Frontline, which by the way does NOT protect cats against heartworm disease.
Stop by our reception area to see the 'Kitty Gift Basket" on display, and protect your feline friends!
Save the Date! BMAH at Bark in the Park, July 23, 2018!
We are planning to participate in the Somerset Patriots "Bark in the Park Night" on Monday, July 23, 2018. It's a fun family event where you can also bring your dog! We hope you will join us. Stay tuned for more details!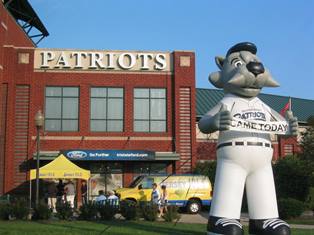 Belle Mead Animal Hospital, Your Other Family Doctors
Handling Every Pet with Love Every Day!
LIKE us on Facebook and Follow us on Twitter @BMAH121, Pinterest and Google+ for news and pet wellness tips. We're also on YouTube! Subscribe for updates! Tag us on Instagram!