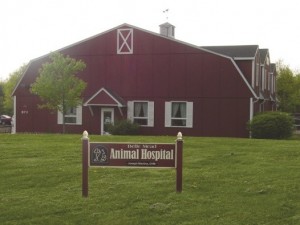 February 2013 – February is National Pet Dental Health Month
Keeping up with pet dental care is a critical part of every pet's year round wellness program. Every February we are reminded just how important this year round program is to our pets when we celebrate National Pet Dental Health Month.
How do we tell that our pet is in need of dental care?
Bad breath (halitosis) is a telltale sign that your pet may be suffering from periodontal disease or oral or systemic infection.  An odor from your pet's mouth is not normal and signals a dental exam is in order.
Check your pet's gums.  If they are red (rather than a healthy pink), this is a sign of trouble.  Other signs to look for are pus oozing from the gums, facial swelling, yellow or brownish buildup on the teeth and pain.
Dental pain is perhaps the hardest sign to detect. Dogs and cats feel dental pain and discomfort, but unfortunately they suffer in silence. The biggest and most common reason that pets do not receive dental care they need is because they rarely show obvious signs of pain or problems until the late stages of dental disease have set in.
Untreated dental disease has been linked to many diseases.These include kidney and liver disease, heart failure, heart attacks, lung disease and diabetes. Many of these conditions can be prevented, treated or improved with proper dental care.
We recommend daily tooth brushing as the best way to keep your pet's mouth healthy.  Debris builds up on your pet's teeth and requires brushing or rubbing to keep the mouth fresh. You may also use daily oral hygiene rinses, dental diets, water additives, and safe chew toys to keep your pet's mouth clean. We can show you how to brush your pet's teeth  during your next visit and suggest the other types of hygiene care most appropriate for your pet.
We care about your pet's dental health.  Call us at 908-874-4447 if you would like to set up an appointment and discuss your pet's dental needs further with one of our veterinarians.
Belle Mead Animal Hospital, Your Other Family Doctors
LIKE us on Facebook, Follow us on Twitter @BMAH121 and Join our Circle at Google+ for news and pet wellness tips. We are also on Pinterest.