The Hillsborough YMCA offers week-long specialty camps throughout the summer, introducing the children to a variety of subjects. One such camp called Future Vets, under the supervision of Laura Rodriguez, Associate Program Director, gave Dr. Martins, DVM and technician Mark Sopko  the opportunity to present on July 10, 2019.  
The presentation took place in two parts: In part one, Dr. Martins gave the children an overall summary of good pet care habits, how veterinarians treat pets, and answered questions.  Part two of the presentation was by Mark Sopko, who gave tips on how to respect wildlife with some do's and don'ts for children to remember.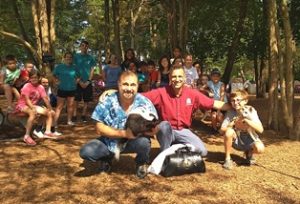 Part One – Dr. Joe Martins, DVM on Pet Care
Dr. Martins began by explaining the importance of training cats and dogs.  He went on to discuss the need to watch your pet's behavior and take note of subtle changes in behavior that might signal illness.
Questions veterinarians will ask when a pet comes in for an exam include: How do you think your pet is doing?  Is the pet eating normally? How many times a day do you feed him/her?  Do you have fresh water out for them every day, and are they drinking?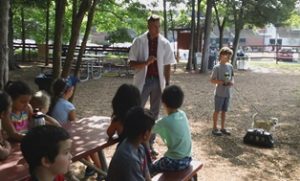 Dr. Martins emphasized the importance of being aware of your pet's behavior because they can't speak in words like you and I – pets talk through their actions. If they are not feeling well, they will often display changes in behavior.  Dr. Martins explained if your pet is normally happy, wagging its tail, and eating well, then all is probably fine.  But if your pet is really lethargic, tired, staying away from you, not eating, having trouble eliminating, then what would you do?  First, children should make their parents aware that their pet is acting a little different.  Make everyone in the household aware in case he/she needs to go to the vet.
When a pet vomits, especially repeatedly, that can be another sign that something is wrong.  Pets eat things in the yard, and could ingest toxic mushrooms, mold, or even plastic.  BMAH saw a puppy who got under the bed and chewed on an old battery.  The puppy came in drooling, but the vet discovered the problem and was able to help the puppy.
Dr. Martins emphasized the most important thing the children should remember is to watch their pet's behavior. If there is a change, the pet should be seen by a veterinarian soon to be treated. The goal is try to prevent injury and illness, and treat an ill pet as soon as possible.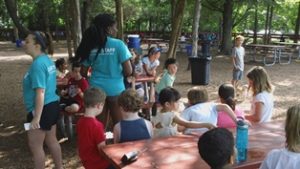 Veterinarians do many things to look after a pet. They examine the pet, prescribe medicine if needed, and perform surgery and dentistry.  Pets often have to wear nice, soft cones after surgery to prevent them from licking or gnawing on their surgical wound so it can heal properly.  One of the most important things a veterinarian can do is take care of your pet's teeth in order to keeps their heart and kidneys healthy. 
Veterinarians also test for parasites and administer mediation.  They also recommend vaccines to protect pets against bacteria and viruses. 
Dr. Martins introduced his son Henry with their dog Smiley.  Smiley is a three year old Chihuahua/ Pomeranian/Schnauzer mix.  They did a DNA test on him and analyzed his blood to find out his ancestry.  Blood work also tells us whether or not a pet is healthy.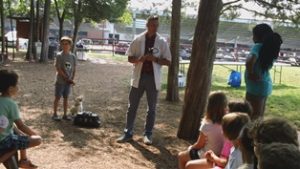 At the end of the pet care presentation, Dr. Martins took a few questions from the children regarding blood tests, why pets wear cones after a surgical procedure, and more about his own pet, Smiley.  Dr. Martins gave out stickers to all the children to take home, and began the introduction to Part Two of the presentation about respecting wildlife.
Belle Mead Animal Hospital, Your Other Family Doctors
Handling Every Pet with Love Every Day!
As Certified Fear Free Professionals, our Mission is to prevent and alleviate fear, anxiety and stress in pets by inspiring and educating the people who care for them.