A big Thank You to all who came to Belle Mead Animal Hospital on December 14, 2019 to celebrate the season with us! Our special Holiday Event with Santa's Live Reindeer took place from 2 p.m. – 4 p.m.
Visitors enjoyed meeting Reindeer Thunder while Yukon Cornelius and his Elf greeted everyone and offered Reindeer facts. The kids seemed to really enjoy the Reindeer encounter and getting their noses lit just like Rudolph! (Yukon is a master at performing this magic!)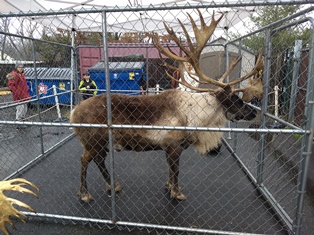 Bumble the Abominable Snowman was on hand for photo ops, while the BMAH team was ready with refreshments outdoors.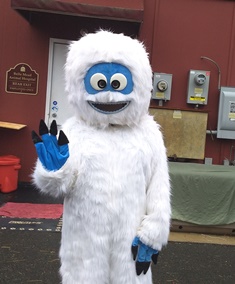 Inside there were more attractions. Folks lined up to go indoors for a variety cookies, cotton candy, hot chocolate and a chance to meet Santa! The adoptable puppies showcased by Animal Alliance of New Jersey were a big hit with the guests, young and old alike.  It was truly standing room only!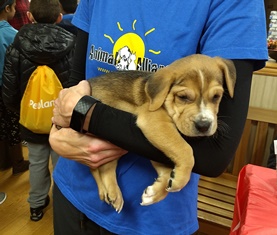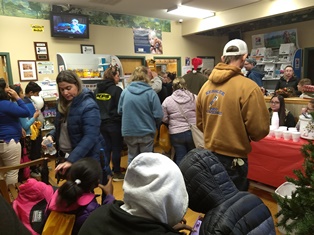 Along with our canine visitor, we even had a surprise visit from Brillo the Guinea Pig! Mom dressed Brillo in a little antler hat so he could show off his holiday cheer while getting his photo taken with Santa!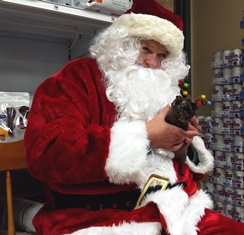 For those who attended, we sincerely hope you enjoyed the afternoon as much as we enjoyed having you! For those of you who couldn't make it, perhaps we will see you at a future event!
View more photos on our Facebook page!
And by the way, Santa's Reindeer have now been cleared for take-off by the president of the American Veterinary Medical Association (AVMA) and official veterinarian of the North Pole! Dr. Howe examined the Reindeer to ensure that Santa's team of nine were up-to-date on their vaccinations, free of disease and healthy enough to make their annual trek around the globe. Watch the video here!
The Belle Mead Animal Hospital Team,
Your Other Family Doctors