Cooperative Care is wonderful for animals that are afraid of veterinary procedures by giving them the ability to indicate they are not comfortable and would like you to stop what you are doing.
Cooperative Care involves training an animal to not only tolerate handling and husbandry procedures, but to be an active, willing participant in these experiences. A vital foundation in Cooperative Care is teaching a duration target behavior.
Research has shown that teaching an animal that they can have some control in situations that cause them anxiety can actually reduce their stress and fear while also increasing their confidence and tolerance for handling during veterinary exams or procedures, grooming, or handling they might otherwise find unpleasant.
Cooperative Care has proven successful for a variety of animals, from dogs, horses and birds to large zoo animals such as lions and hippos.
Case Study: Meet Laima!
Laima is an Australian Shepherd that has a history of being very anxious at veterinary hospitals. Luckily, she is owned by a dog trainer that was willing to explore Cooperative Care with Laima.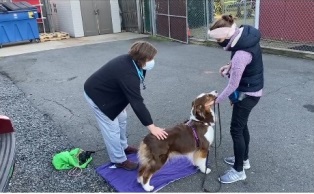 Cooperative Care teaches Laima that she can let us know if she is ready and willing to have her exam, and in this case, her blood drawn. She does so by giving her owner a chin rest (resting her chin in her owner's hand). Laima did very well during her first visit with Dr. Somjen!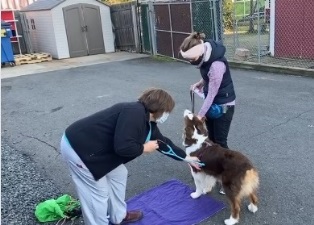 Cooperative Care and Fear Free Exams
The beauty of Cooperative Care is that is goes hand-in-hand with the Fear Free pet experience at the veterinary hospital.  The BMAH Team is staffed with Fear Free Professionals who believe and understand that our pets are, in fact, sentient beings.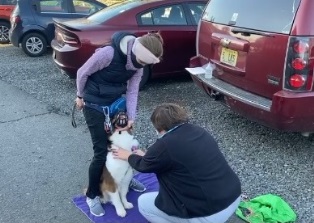 It's important to understand that our pets are able to feel or sense situations and circumstances surrounding them in either a positive or negative way. Through their behavior they demonstrate awareness of their surroundings and responsiveness to environmental stimuli. Our animals see, hear, and smell – they communicate with us not only vocally but specifically by their behavior.
If you are interested in exploring Cooperative Care with your pets to enhance their Fear Free experience, contact us to learn more.
Recommended Reading:
What Fear Free Means for You and Your Pet
Achieving Fear Free Exams for Your Pet
Dr. Kim Somjen, DVM CCRP cVMA