Belle Mead Animal Hospital has upgraded our phone system to serve you better. Please note that old numbers stored in your personal phone history or elsewhere may no longer work. Please be sure to store our main number only – 908 874 4447 – and clear any other alternate numbers from your speed dial history.
A reminder about scheduling appointments: Our team is trained to offer appointment times and procedures that have your pet's best interests in mind. Therefore, communication between a BMAH team member and client is crucial for your pet's Fear Free experience.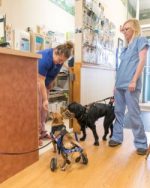 Some pets may enjoy the sights and sounds of a busy hospital reception area while waiting for their appointment time, while others may benefit staying outside with their owner upon arrival and being ushered directly into an exam room when ready. Daytime emergency cases will be given individual consideration and advice when the call is taken.
Learn more here about Achieving Fear Free Exams for Your Pet
Belle Mead Animal Hospital, Your Other Family Doctors
Handling Every Pet with Love Every Day!
As Certified Fear Free Professionals, our Mission is to prevent and alleviate fear, anxiety and stress in pets by inspiring and educating the people who care for them.