We wish to extend our sincere thank you to all of our valued clients and supporters who voted for us in the 2017 Courier News Readers Choice contest. The Belle Mead Animal hospital team has once again been awarded "The Best in Somerset County," and we could not have achieved this award without you.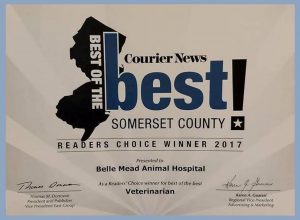 For five years running this award has shown your continued confidence in our team to provide the best care possible for your pets. All the animals that come through our door – dogs, cats, exotic companion mammals, birds, reptiles, goats, pigs – are special to us. They are part of your family, and we consider them part of our BMAH family, too.
We continue to stand firm in our mission to make life better and healthier for pets and families in our community. That is our commitment to you. Thanks for giving us the opportunity.
Belle Mead Animal Hospital, Your Other Family Doctors