The Westminster Kennel Club Dog Show is billed as America's second-longest continuously held sporting event. The 2023 event will be held May 6-9 at the USTA Billie Jean King National Tennis Center in Flushing Meadows–Corona Park in Queens, New York, and our own Veterinary Technicians Christine Hamill and Rachel Kalinowska will be participating with their dogs!
"I will be showing Charley," said Christine. "Charley is a 10 1/2 year-old female Rough Collie. She loves to show, so we decided to enter. Rachel will be showing Rhys, a Smooth Collie who is almost 7 years old."
Christine went on to explain that Rhys and Charley actually have the same canine mom; Charley was bred from Christine's collie Slinky's first litter, and Rhys was from Slinky's  second litter.
Below are some photos of Christine with Charley. The first two photos are from her Veteran Participation at the Collie Club of America National Specialty held in March 2023 in Fort Wayne, Indiana; the third photo is from a show in Maryland taken in the fall of 2022; the fourth photo is from spring of 2023 when Charley won Best of Breed from the Veteran Class at two Collie specialties in New Jersey!
And following is a collage of Rachel with Rhys featuring pictures from local dog shows and Rhys enjoying a hike on a "weekend off."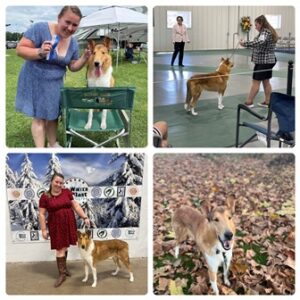 The Westminster Kennel Club is known for using education to raise awareness and encourage owners to conscientiously select dogs that are the correct match for the owner's home and lifestyle. The annual dog show includes the Masters Agility Championship and Masters Obedience Championship where dogs from all backgrounds are eligible to compete. A dog-lover's delight!
Join us in wishing Christine/Charley and Rachel/Rhys, much success at this year's event! 
Recommended Reading:
A Westminster Adventure with Vet Tech Christine Hamill and Wyatt
Dr. Somjen competes in Westminster Kennel Club Dog Show
Belle Mead Animal Hospital, Your Other Family Doctors
Handling Every Pet with Love Every Day!
As Certified Fear Free Professionals, our Mission is to prevent and alleviate fear, anxiety and stress in pets by inspiring and educating the people who care for them. Visit Fear Free Happy Homes here and join at no cost!